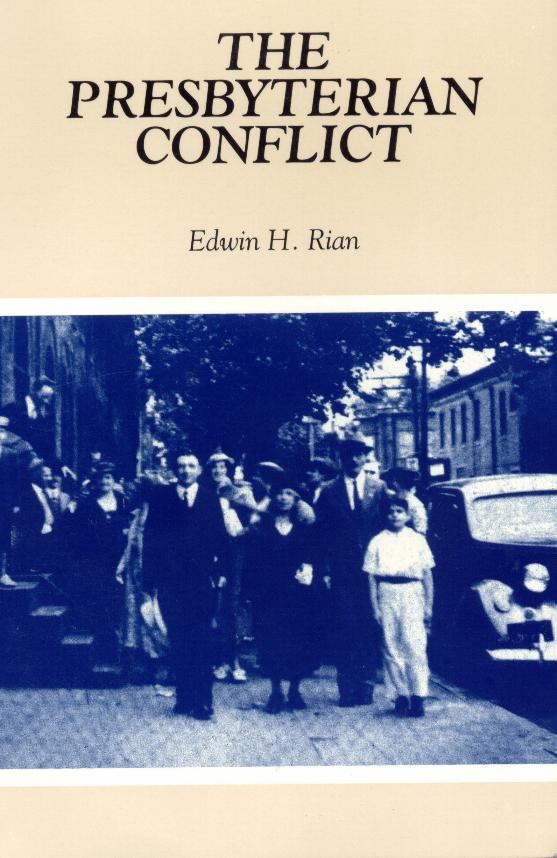 After reading
The Presbyterian Conflict
by Edwin H. Rian and various histories of American fundamentalism, I have come to the conclusion that it is much safer for local churches to remain independent. I am sure that there are benefits to being part of a good denomination, but I also recognize the strangle hold a hierarchy can have on local churches. Why would a denomination want to own a church building and keep it from dissenters who have severed ties to the denomination? The conflict which Machen had with his denomination caused me to fear such a relationship. (See also Rev. George Bailey's article,
The Independent Nature of the OBF
.)
But there still remains within me an attraction to the name and history of the Presbyterian church. My maternal grandparents are members of a Presbyterian church in Pennsylvania. My grandfather served as a Sunday School teacher and (I think) an elder of that church. Also, the church in which I was reared was started by a pastor who had left the United Presbyterian church. (Click here to read a three page account of Rev. William Ashbrook's life.) Consequently, there is a bit of interest built in to me as I contemplate what it means to be a Presbyterian.
As an immature teen-ager, I thought that the churches of the Ohio Bible Fellowship were the only fundamental churches in existence. For some reason, I thought that all Baptist churches were new evangelical! My eyes were opened after attending Bob Jones University and Northland Baptist Bible College. During those years, I had the opportunity to serve at fundamental Baptist churches in South Carolina, Ohio, and Michigan. These experiences have revealed the limited understanding I had about fundamentalism.
But what about Methodists and Presbyterians? Are there any fundamental churches in those denominations today? My acquaintance with the late Mrs. June Ashbrook opened my eyes about the Methodists. Her background was the Evangelical Methodist Church. This denomination was formed in response to the liberalism which was overtaking the Methodist denominations in general. See a bit of their history here. As to the Presbyterians, our church has asked Dr. Michael Barrett of Geneva Reformed Seminary and Faith Free Presbyterian Church to speak at our Bible Conference. A look at the Free Presbyterian Church's web site will convince you that they also are a fundamental denomination which formed as a result of their stand against compromise.
I conclude that there are more fundamental churches than I once thought. And those strong churches are not limited to one state or denominational name. The Lord has raised up godly men, churches, fellowships, and denominations which are willing to stand against compromise. May God continue to raise up people of all tribes, nations, and yes, even denominations who are focused on the overarching purpose of giving our God the glory he deserves.